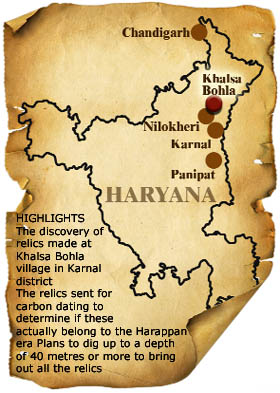 By: Manish Sirhindi Source:
The Tribune
A map shows the location of Khalsa Bohla village in Karnal district where relics have been excavated. Graphic: Rajbir Singh Nilokheri (Karnal), April 5 Archaeological experts from Banaras Hindu University (BHU) and Cambridge University, London, have dug out relics believed to be associated with the Harappan civilization. The discovery was made at Khalsa Bohla village in the district from a mound spread over 400 metres.
The excavation teams are being led by Arun Pandey of Banaras Hindu World School and historian Patrick from Cambridge University of London. Arun Pandey said the excavation was in the initial stages and they had dug up only four metres of land. He said the team had already found relics, including utensils, pottery and bones, which are believed to have been used by people belonging to the Harappan era. Pandey said the excavated relics had been sent for carbon dating to ascertain their exact age to determine if these actually belonged to the Harappan era.
The size and shape of utensils made of mud suggested that these were of the Harappan times. He said the team planned to dig to a depth of 40 metres or more to bring out all the relics. He claimed the excavation was being carried out carefully so that no damage was caused to any historical object.
Gumeet Singh, sarpanch of the village, said the excavation assumed significance as the epic war of Mahabharata was fought at this village and the excavated relics could date back to that period.